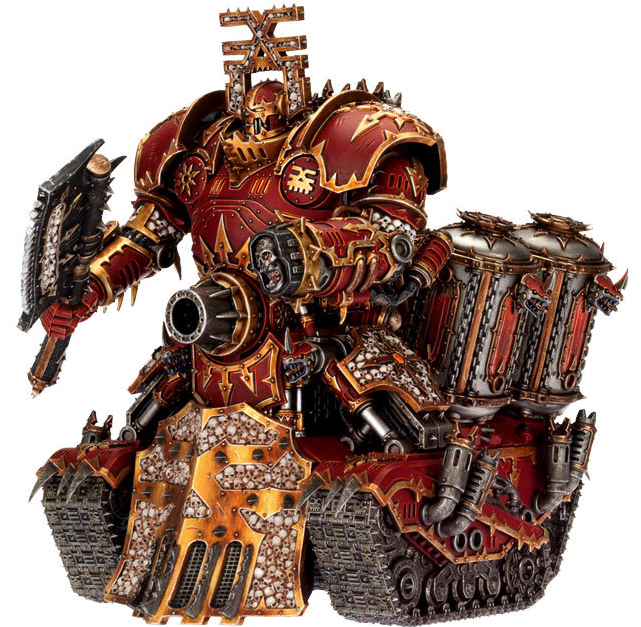 Once again, we have two giant monsters punching each other in the face. In the blue corner, we have an Imperial Knight! Nobel, honorable, and armed with a very large chainsword. In the very very red corner, we have the Lord of Skulls! Let's see how these two stand up to each other
The Knight:
The main advantage of an Imperial Knight is going to be its initiative. Striking before the Lord of Skulls gives the knight a chance to kill without taking any damage.
Chances of killing a Lord of Skulls without the charge: 22.42%
Chances of killing a Lord of Skulls with the charge: 29.99%
Since the knight can't stomp the Lord of Skulls it loses quite a bit of its normal power.
The Lord of Skulls:
While the knight may be striking first, the Lord of Skulls has a lot of goodies. A 5+ invulnerable save and 'It will not die' make the Lord of Skulls quite durable against anything but destroyer weapons especially when combined with its nine hull points. Finally, the Lord of Skulls is going to gain an additional attack for ever hull point it has lost. Even hull points that are regenerated are going to still give bonus attacks!
Chances of killing a knight without the charge: 42.08%
Chances of killing a knight without the charge: 50.45%
That was fairly underwhelming.
Using a Lord of Skulls:
The Lord of Skulls is a bit cumbersome. It has some solid shooting and some strong melee attacks, but its price tag is severely limiting.
Shooting:
The best option here is definitely the skull hurler. It and the gorestorm cannon are going to eat up all but the heaviest of non-vehicle units. The daemongore cannon even makes taking down multiple monstrous creatures a possibility.
Melee:
Destroyer attacks in close combat are fierce, but 4 weapon skill makes them sad. I wouldn't recommend going after any super-heavies that are dedicated to close combat.
Between the shooting and the melee, the Lord of Skulls ends up as a 'bully' unit. It will easily decimate any weaker units (without much damage in return), but it will run into trouble if it tries to take on another super-heavy. They key to making a Lord of Skulls more than just a bully is making sure you bring invisibility or a grimoire of true names. If you are running a Khorne Daemonkin force, then you are going to need to bring allies. Since the Lord of Skulls can be taken with Chaos Marines and Daemons, this isn't always an issue.
Other Options:
The Lord of Skulls is an expensive option. Lets see some other options for (relatively) the same price.
Warhound Titan:
Not exactly a 'friendly' option, but if you are already running superheavies, and you happen to have the model, then this is a solid choice. Warhounds can be set up to take out large sections of Infantry, but do have options against other titans as well. The void shields also give it a bit more survivability than a Lord of Skulls.
Chaos Knight + Bloodthirster + Maulerfiend:
I can't remember if Chaos Knights are still in the 'experimental' forgeworld, but ITC allows them, so they are fair game at many tournaments.
This is a solid combination. The Knight allows for some decent ranged shooting (something that is lacking in KDK lists), but still provides strong melee attacks. Bloodthirsters with a greater axe of Khorne and Maulerfiends with lasher tendrils are always a good time. The 'thirster + maulerfiend option is more than capable of taking down a knight.
Gorethunder Battery + Bloodthirster
Another viable option is to use a Gorethunder battery. The shooting is not quite as good as the skullhurler, but it will still cause some serious pain.
The Lord of Skulls seems to fall into the 'jack of all trades, master of none' category. Its strong melee attacks are hindered by its average weapon skill and and initiative. A Lord of Skulls will put some serious hurt on a Baneblade, but isn't going to excel at taking down anything dedicated to close combat. At the same time, its shooting will carve through large blocks of infantry, but will fall short when it comes up against any decently armored vehicles. A Lord of Skulls is designed to perform a roll that most Daemonkin or Daemon armies are already capable of doing. In a sense, it is incredibly fluffy because it mirrors the strengths, and weaknesses, of most Daemonkin/Daemon armies.