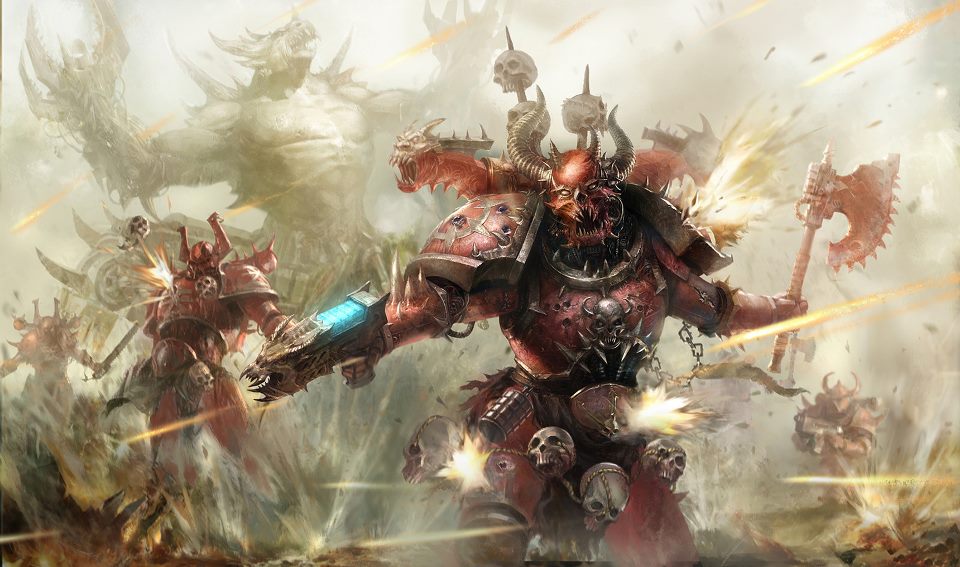 I have been toying with the idea of building a Khorne Daemonkin army for a while. Since I am finally about to pull the trigger I decided to start analyzing the daemonkin units to figure out what is most effective. I decided to start with troops since they form the core of any army.
Melee Marines Vs Berzerkers:
Comparing these two units is easy because they have the same survivability and only their offensive ability is different. A Khorne Berzerker has a 26% increased cost, so it needs to do at least (1.26*1.26= 1.60) 60% more damage than a regular marine in order to compensate for both the the increased offense and defense that the regular marines will get from more models.
Against Guardsmen:
On the charge, an attack from a Khorne marine will kill a guardsman 29.63% of the time and a berzerker will kill one 37.04% of the time. This is only a 25% increase in damage, and it doesn't even surpass the increase in cost. Berzerkers do have the option to take chainaxes, which would ignore the guardsmen's armor. This increases their damage (compared to a marine) by 87.5%, but the upgrade also increases their cost. We would need to increase their damage by 96% to make the upgrade worth the points.
Bottom line, having more marines is going to be better than having fewer berzerkers when facing a guardsmen equivalent.
Against Marines and Terminators:
Once your opponent starts to have better stats the Berzerkers start to stand out a bit more.
In both of these situations the Berzerkers are going to do 77% more damage than the traditional marines. Since this is above the 60% minimum Berzerkers are going to be better at fighting marines and terminators.
What we see is that the cheaper option (Khorne marines) are better at fighting cheaper troops, and the more expensive option (Berzerkers) is better at fighting stronger troops. The reason for this is that a regular marine already has better stats than a guardsmen and the additional weapon skill and strength (on the charge) aren't necessary when fighting cheap troops.
The balance between these two units will depend on what you want to do with your army and what you expect to face. Traditional marines also have the added benefit of taking ranged weapons, so they are quite a bit more versatile than berzerkers.
Cultists Vs Bloodletters
It may seem strange to compare these units, but both of them fulfill the same roll of grabbing objectives.
Survivability:
Daemons gain survivability because of their invulnerable save and cultists gain their survivability from numbers. In open terrain, or against weapons that ignore cover, the two units are almost dead even in survivability. A unit of 12 cultists costs 82 points and a unit of 8 bloodletters costs 80 points. Looking at averages, something that does 12 wounds to the cultists should do 8 wounds to the bloodletters. Once the cultists get into terrain they have better survivability per point than the bloodletters.
Objectives:
This is where math becomes less helpful. Troops are only going to be better at capturing objectives if you are running a combined arms detachment, and if you are trying to capture a non-contested objective there is no benefit for troops.
It is also difficult to estimate where objectives are going to be placed, but you need to be prepared to capture objectives in your opponent's deployment zone, your own back line, and way off in the middle of nowhere. Bloodletters have a district advantage because they can deep strike. They can go after objectives that are far beyond the range of cultists. If your back field has decent cover, then cultists are going to be better for holding your home objective.
Squad Sizes:
When comparing chaos space marines to daemons it is important to note that all chaos space marine squads pay a tax (usually 10 points) for their squad leader. As a result, ideal squads look slightly different. With cultists you usually want fewer squads with bigger numbers, but bloodletters benefit from having multiple minimum sized units. These minimum sized squads will help generate blood tithe points and force your opponent to split fire between multiple squads.
Ultimately, the troops you choose are going to be based around what style of army you are planning on playing. Bloodletters can provide cheap units capable of deep striking and generating easy blood tithe points, Chaos Marines offer some much needed mid to close range fire support, Cultists can drown an opponent in bodies, and Berzerkers can put out a boatload of attacks. For my army, I plan on having a variety of units. I am going to be building this army around what I will enjoy painting and what is fun, rather than what is most effective.